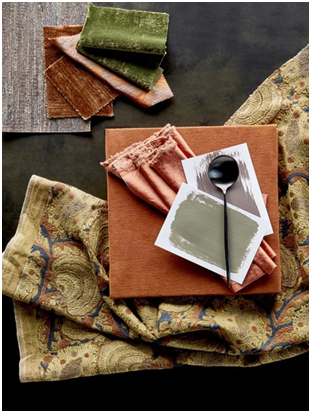 Some glorious design trends were presented during Paris Design Week in January of this year, and one of the most thrilling was the focus on color. The freshest tones borrow from nature, as human beings have done for centuries, and the names assigned to these hues further illustrates this tribute.
Rust colors mimic the deep reddish-orange of a sunset or autumnal leaves. Mossy greens invoke the forests and a sense of calm. Pale purple was an interesting newcomer to the scene: rugs and rooms accented with this soft shade of grape exude an aura of gladness and allure.
Inspiration from the raw environment has influenced even designers of dinnerware. L'Objet's creative director introduced a new collection of plates and bowls in a golden shade reminiscent of straw, both deep and warm. Citrus orange, with its bright and lively feel, has been embraced by fabric houses in joyful anticipation of spring.
The classical Parisian palette of cream and gray has returned to the forefront of contemporary upholstery and luxury paint, inspired by the muted peacefulness of mountain peaks or seashells weathered by time. Tortoise brown is being used to embellish carpets as well as interior walls. This stimulating fusion of deep reds, blacks and caramels evokes the color of natural minerals in the earth and is both bold and soothing.